OUR DOCTORS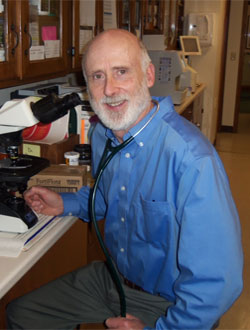 Dr. Charles Allen
Clinic Partner
Dr. Charles Allen grew up on a dairy farm in rural New Hampshire. Coming from a family of veterinarians, his interest in animal medicine was a natural choice as he received his Bachelor of Science degree from University of New Hampshire in 1973 ,continued his education at Cornell University and earned his DVM in 1977. Chuck immediately started working in the Lowville area after graduation, spending 90% of his time practicing large animal medicine .

In 1997, he became a full time small animal doctor for the practice and by 2003 had developed an alternative technique for ACL repair in dogs. Dr. Allen currently schedules surgery and medical appointments for small animal patients at both Lowville and Otter Lake clinics.

Chuck and his wife Caryn live in Lowville, where they have raised three children (Emilie, Jordan and Braden) In his spare time, Chuck prefers to spend quiet time in the woods fishing, hiking and canoeing.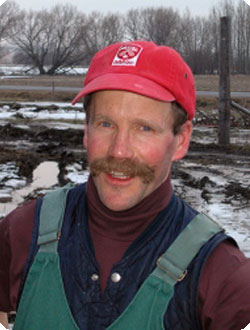 Dr. Peter Ostrum
Clinic Partner
Dr. Peter Ostrum graduated from Cornell University with his veterinary degree in 1984. After completing an internship with the ambulatory department at the University of Florida Veterinary School, Dr. Ostrum joined the staff at Countryside Veterinary Clinic of Lowville, NY.
Currently, as a senior partner at the clinic, Dr. Ostrum enjoys working on small and large dairy farms,concentrating on dairy production medicine, nutrition, NYSCHAP (New York State Cattle Health Assurance Program) and embryo transfer. Working closely with farm owners and their families has been a great source of satisfaction for Dr. Ostrum as the family farm has evolved over the past 25 years.

Dr. Ostrum has recently been featured on "Vets on Call", a reality series sponsored by Pfizer Animal Health. This series provides a unique glimpse into the daily life of a rural dairy veterinarian. By drawing attention to rural food animal practitioners, the intent of the series is to highlight the natural bond between veterinarians and their dairy clients. As our nation's population becomes less involved with modern agricultural practices, it is hoped that the "You-Tube" videos will help educate consumers and draw potential students toward food animal practice as a viable career choice.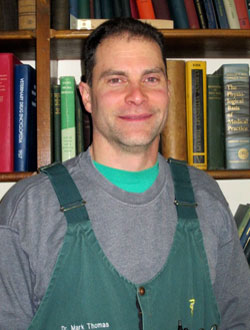 Dr. Mark Thomas
Clinic Partner
Dr. Mark Thomas grew up on a beef cattle farm in New York State. He earned a Bachelors of Science in Animal Science at Cornell University and continued his education at the College of Veterinary Medicine where he earned a Doctor of Veterinary Medicine (DVM) degree in 1997. In 2001 he completed the Penn State Dairy Production Medicine Certificate Program. He is a diplomate of the American Board of Veterinary Practitioners (ABVP) certified in dairy practice.

Following graduation Dr. Thomas entered clinical practice at Countryside Veterinary Clinic, LLP in northern New York. He is currently a partner in the practice which has eight large animal veterinarians serving about 200 dairy clients.

Within practice Dr. Thomas' main focus is production and preventative medicine. In addition to routine veterinary care, Dr. Thomas provides consulting services in the areas of nutrition, reproduction, milk quality (certified milking equipment technician), facility design and replacement rearing both within the USA and internationally. He speaks Spanish and provides bilingual training programs. Outside of private practice, Dr. Thomas is also active in teaching through the Cornell Pro Dairy program and the Summer Dairy Institute at Cornell.

He has served as an active member of the AABP membership committee and has co-chaired the student program at the AABP national convention. He is currently the District I director for AABP and the co-chairperson of the Northeast Dairy Production Medicine Symposium (NEDPMS).
In his free-time, Dr. Thomas enjoys many outdoor activities with his wife, Tracey, and three daughters.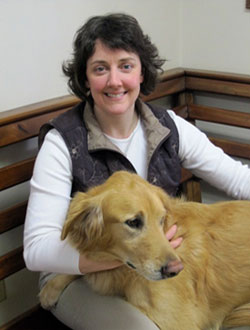 Dr. Stacy Kenyon
Clinic Partner
Dr. Stacy Kenyon grew up on a dairy farm in the Finger Lakes region of New York before attending Kenyon College (Gambier, OH) where she received a Bachelor of Science degree in 1995 and Cornell University College of Veterinary Medicine, graduating with DVM in 1999. Stacy joined CVC shortly after graduation and has specialized in mixed-animal practice since then.
Stacy currently schedules surgery and medical appointments for small animal patients at both Lowville and Carthage locations and devotes one day a week to dairy and equine clients.
Stacy and her husband, Barry Widrick, have two children (Kaitlyn and Nathan) and live in Lowville. Favorite activities include camping, running, and spending time with family and friends.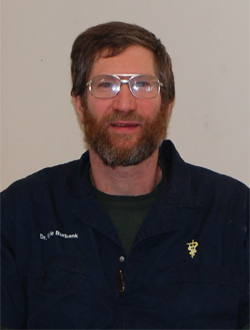 Dr. Kyle Burbank
Bios coming soon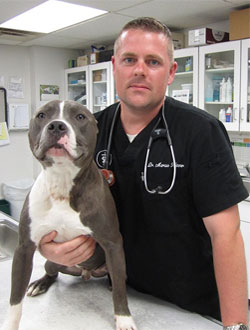 Dr. Marcus Hetzner
Dr. Marcus Hetzner, originally born in Germany, has lived in Lowville, New York since 1985 and attended the local Lowville Academy and Central School. After graduating from Lowville Academy, Dr. Hetzner attended St. Lawrence University in Canton, New York. He graduated suma cum laude in 1998, receiving his Bachelors of Science degree. For two years after graduating from St. Lawrence, Dr. Hetzner worked for the Watertown Eye Center in Watertown, NY where a keen interest in opthalmology developed. He applied to veterinary schools in 2000 and accepted a position at The Ohio State University College of Veterinary Medicine. He graduated in 2004 with his doctorate of veterinary medicine.

After graduation he moved back to New York with his wife and then one year old son. He had the honor to receive a position back in his hometown of Lowville with the Countryside Veterinary clinic group, where he has been working since July 2004. There he practices companion animal and exotics medicine, and continues to pursue his special intersts in opthalmology and orthopedic surgery.

Apart from practicing veterinary medicine, Dr. Hetzner enjoys spending time with his family, who was blessed with a second son in 2005. Some of their favorite activities include camping, hiking and canoeing/kayaking. Dr. Hetzner also enjoys relaxing in his woodworking shop.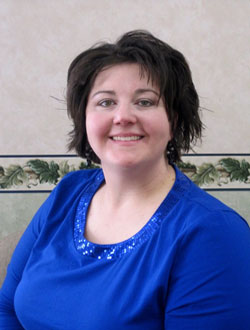 Dr. Deanna Fuller
Deanna L. Fuller doesn't remember always wanting to be a veterinarian, but her mother does. "I don't remember this, but my mother does and I said I wanted to be a veterinarian," said Dr. Fuller. "I grew up on a beef farm, so I was always interested in doing large animal medicine."
Dr. Fuller grew up in Salesville, Ohio and credits her family farm's veterinarian with mentoring her. The veterinarian had a small practice that covered a large area, but Dr. Fuller said he always took the time to answer her questions. "Part of his impact on me was that he was so caring for his variety of clients," she said. "To have that kind of an impact, even for his short visits, was amazing to me and I want to follow that example." Dr. Fuller earned a bachelor's of science in agriculture and a doctorate of veterinary medicine from the Ohio State University. She counts her acceptance at OSU as her biggest achievement because of the intense competition to get into veterinary school.

Finding her way to New York seemed more like fate. "It sounds corny. We were driving and they were showing me the area and we saw two rainbows. And I said that has to mean something," she said. Her practice includes small animals at the Countryside Animal Hospital. She volunteers at the Lewis County Animal Shelter, works with the county Animal Response Team and the Cornell Cooperative Extension 4-H Program Committee, leading the Horse Bowl Team to regional wins and sending youth to the state competition.

She teaches a class that introduces kids to vet medicine and participates in a Beef Quality Assurance program to educate beef producers. "Without the support of my family and all the people in the community where I grew up, I could never have attained my goals," said Dr. Fuller. "It's extremely important to me that I serve as a role model to others who have an interest in veterinary medicine and agriculture."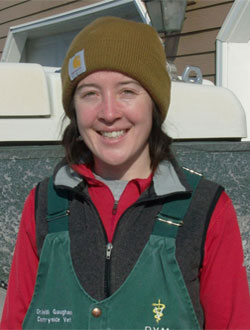 Dr. Kelli Hanno
Dr. Kelli Gaughan grew up on a small, tie-stall dairy farm in Cherry Valley, NY. In her few, short years "off the farm," she received her undergraduate degree in Geology from Oberlin College (Oberlin, Ohio) and traveled throughout the continental United States and overseas. She then accepted her dairy destiny and attended Cornell's School of Veterinary Medicine. Kelli joined CVC shortly after graduation in 2009 and has focused on dairy practice almost exclusively since that time.

She keeps busy coaching the Lewis County Dairy bowl teams, being a board member of the local Farm Bureau and vice chair of the Lewis County Cornell Cooperative Extension's Agricultural Committee. She also enjoys the lovely outdoors of northern NY.
Kelli and her hubby Ben Hanno are also busy remodeling their new home/farmstead and getting excited about all the non-milking animals they will someday own.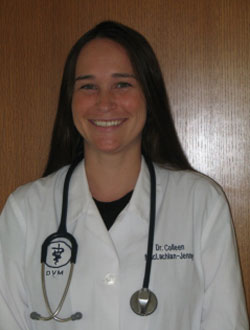 Dr. Colleen MacLachlan-Jenny
Dr. Colleen MacLachlan-Jenny grew up in Boonville, NY. Graduating at the top of her class, Colleen received both her BS and Doctorate of Veterinary Medicine from Cornell University in 2001 and 2005, respectively.

Dr. Colleen practices small animal medicine and surgery at Countryside's Otter Lake and Lowville locations. She currently resides in Remsen, NY with her husband (Tim) and son (Trent).

Her interests include hiking the Adirondack High Peaks, skiing, and running.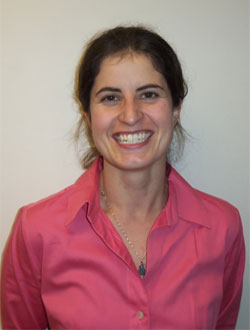 Dr. Jennifer Nightingale

Dr Jennifer Nightingale grew up in Columbia County, NY and attended Middlebury College in Vermont, where she was a student of architecture. She later realized that the office lifestyle was not for her, and soon after graduation she pursued her lifelong dream of becoming a large animal vet. Jen attended the College of Veterinary Medicine at Cornell where she was an active member of both bovine and equine organizations. She graduated in May 2011 with a specialization in Production Animal Medicine.
Jen practices mixed large animal medicine at Countryside Veterinary Clinic, working mostly with cows and horses, with a day here and there thrown in enjoying the small animal side of things. Her interactions with farmers and pet owners are the highlight of her day.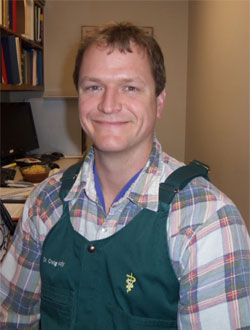 Dr. Craig Pauly
Bios coming soon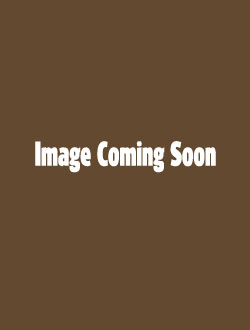 Dr. Matt Curler
Bios coming soon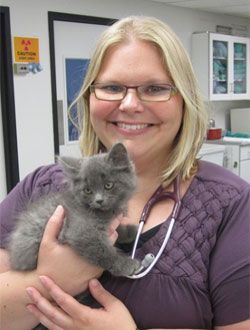 Dr. Jennifer Niedziela
Dr. Jennifer Niedziela graduated from The Ohio State University, College of Veterinary Medicine in 2012. She grew up in a small town in Western Massachsuetts and attended Framingham State University (Framingham, MA) where she received her Bachelor of Science degree in 2004. She enjoys all aspects of veterinary medicine but has a special interest in cytology and dermatology as well as being involved in the community.

She splits her time in both the Lowville and Carthage locations practicing small animal medicine and surgery.
Dr. Niedziela looks forward to getting to know both the clients and patients and feels very fortunate to have found a place like Countryside Veterinary Clinic where she can continue to grow as a veterinarian both in the hospital setting and in the community.

Dr. Niedziela shares her house with 2 dogs. In her spare time she enjoys traveling, hiking, gardening, exploring the area, and spending time with friends and family.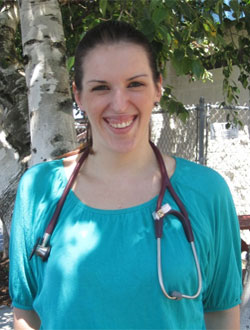 Dr. Elizabeth Baker
Dr. Elizabeth Baker grew up in Rockland County, NY. She received her A.S. from Rockland Community College in 2004 and her B.S. from the University of Vermont in 2006. She graduated from The Ohio State University's College of Veterinary Medicine in 2012 with an interest in Oncology, Behavior and Shelter Medicine.
Dr. Baker spends her time working in both the Carthage and the Lowville Clinics and enjoys getting to know the members of the community through their love of their pets.

Dr. Baker is kept busy by her two dogs Artemis and Electra, both Labrador retrievers, and her two cats Eros and Voldemorte.
In her time off she enjoys learning about central New York and visiting family and friends.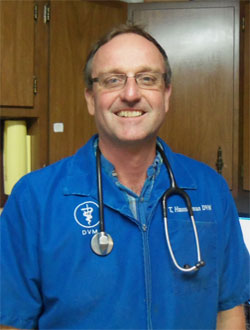 Dr. Terry Hausserman
Dr. Terry Hausserman grew up in a small town in Iowa. He always had an interest in working with animals and as a child pursued this interest by working on beef farms and helping with crops for various farmers in his home town. He attended Iowa State University (ISU) where he graduated in 1986 with a Doctorate in Veterinary Medicine. Dr. Hausserman met his wife Diane while they attended ISU, married in 1984 and moved to Boonville in 1986 where Dr. Hausserman found employment at Foothills Veterinary Clinic owned by Dr. James Pawlicki.

In 1994, Dr. Hausserman went into partnership with Dr. Pawlicki eventually buying Foothills Veterinary Clinic in 2003. Foothills, now a subsidiary of Countryside Veterinary Clinic as of 2013, is where he practices both large and small animal medicine.

On his days off, he enjoys hunting and golfing all while looking forward to his annual hiking trip with wife Diane to the Rocky Mountains. Dr. Hausserman and Diane have two children, Rachel and Rebecca, who have both pursued careers in the human medical field.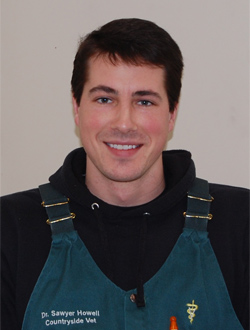 Dr. Sawyer Howell
Bios coming soon