Welcome to Countryside Veterinary Clinic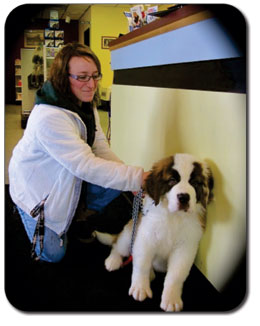 Countryside Veterinary Clinic is a
multi-veterinarian, mixed-animal practice
located in the beautiful foothills of the
Adirondack Mountains of New York State.

We offer compassionate and quality veterinary
services to a variety of species through our
respective large and small animal divisions.

Countryside Veterinary Clinic operates four
clinics in upstate New York - located in
Lowville, Carthage, Otter Lake, and Boonville.
Our Mission...
We strive to offer not only sound advice, but also optimal veterinary care, thus allowing you the enjoyment of your companion for a maximum number of years. Our goal is not only to treat your pet when he or she isn't feeling well, but also to help you learn how to keep your best friend happy and healthy.
February is Pet Dental Health Month
Dental Disease Facts:

80 % of All Pets Over the Age of 3 Have Some Form of Dental Disease
Dental Infections are Painful
Dental Tartar and Infections in the Mouth Create Reservoir of Bacteria That Injure Internal Organs
Dental Disease Will Shorten Your Pet's Lifespan by 2 Years
Regular Cleanings can Help Prevent Dental Problems

Ask About Our Dental Cleaning Specials for February!

For More Information About Dental Disease in Pets, Click Here.
Featured Pet

This is Olivia. Olivia is about 6 months old and in need of a good home.

If you are interested in Olivia, please contact our Carthage Clinic at 315.493.7387.



---